Custom Orthotics/ Spinal Pelvic Stabilizers
Our office offers the most sophisticated, computerized custom orthotic available today. Feet, like fingerprints, are all different and "store bought" insoles can do more harm than good. An orthotic, to be the very best for your body, must be fitted exactly to your feet.
Even if your feet don't hurt, they may be contributing to your overall postural balance. If you're having pain or discomfort in a specific area of your body anywhere from your feet to your neck, stabilizers can help.
Foot Leveler orthotics are not just ordinary orthotics, they are custom orthotics that are specifically made of the digital scan of your feet. Foot Levelers' custom-made Stabilizers help promote a healthy, natural, skeletal alignment for total body health.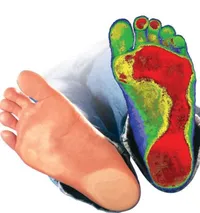 ---
What are Spinal Pelvic Stabilizers?
Our Stabilizers are shoe inserts that support all three arches in your feet thereby creating a stable foundation upon which to build proper body posture. Each is custom-made to stabilize your spine and pelvis by correcting the specific imbalances in your feet.
Benefits of Spinal Pelvic Stabilizers:
Properly fitted Spinal Pelvic Stabilizers support the foot to control excessive and unwanted pronation and supination. This helps to reduce unwanted stress on the body.
Improved shock absorption reduces repetitive stress on joints and muscles, permitting smoother function and decreasing arthritic symptoms.
Use of Spinal Pelvic Stabilizers represents a long-term, yet cost-effective intervention for many types of functional and structural problems